Sovereign Ipsissimus Dave Lanyon, lineage holder in the Modern Mystery School tradition of King Salomon and author of You Are Not Perfect The Way You Are and Essential Principles for the Warrior of Light delivers to you Hermetic Wisdom Contemplation Cards.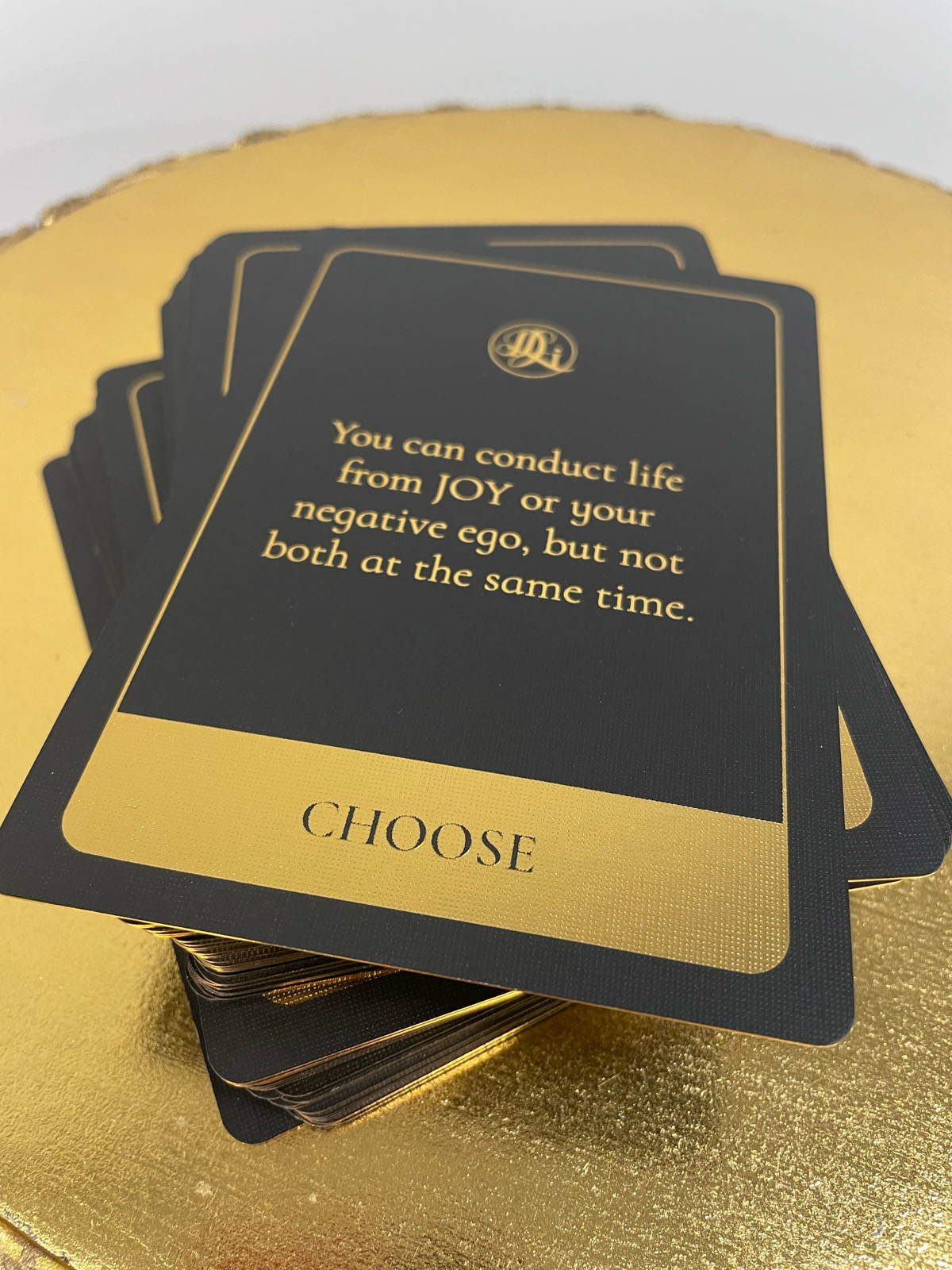 This 72-card deck is filled with carefully selected keys of knowledge that come from the ancient mystery school teachings of Hermeticism and Esotericism. 
Sovereign Ipsissimus Dave Lanyon's Hermetic Wisdom Contemplation Cards are opportunities to ponder God and oneself as god, absent any external and unnecessary human influences. God, not through religion, science, or human dogma but through the Self, as the Self.
People all around the world are loving these cards — using them as a daily contemplations, reflections and receiving answers to questions. Here's what recipients of these cards are saying:

"You know when you're having one of those days and you JUST want some wisdom to bring some clarity and a different perspective?! Well look no further because these cards are UNREAL! They are spot on EVERY. DANG. TIME. They have been great in one off situations like mentioned above and with setting an intention that's fitting for me for the day/week. I highly recommend you try them out for yourself and let the MAGICK unfold!"
— Rachel Miller, California, USA

"These Contemplation Cards are beautiful, full of energy, and spot-on every time! They always deliver the perfect message to contemplate, and theme for the day to be aware of!"
— Dr. Theresa Bullard-Whyke, London, England

"Simply having these cards in my home brings huge blessings and Divine energy. Each card inspires my day and presents penetrating Hermetic answers to the questions I ask of them. I feel so grateful to have such wisdom at my fingertips. Thank you Sovereign Ipsissimus Dave for this wonderful gift to us all!"
— Dr. Ann Donnelly, Derry, Ireland

"These cards hold real magick in them. Always 100 percent spot on to what I need to hear at that moment for me to have greater clarity for any given situation. I have tested it out and I will pull the same card out of 72 for the same question. I can really feel the power behind them and I love the energy of the beings that were called into help with the manifestation of these cards by Sovereign Ipsissimus Dave. I cherish these cards and I love that they are here in this present time to assist us in our mission!"
— Chiyona Indriya, Seattle, Washington

"These have been so great! Inspiring gratitude, awe, wonder, and positive action. Such a lovely gift and powerful tool."
— Maragert Lancaster, Vermont, USA

"I absolutely love using the Contemplation Cards to seek inner guidance each day, and they are so so accurate and wise."
— Martina Coogan, London, England

"These cards are brilliantly precise and cut to the core of what the user is asking. I am constantly blown away by the depth of the answers that I receive to my questions when pulling cards. They often incite a level of introspection that I hadn't even considered. 10/10 love them and use them in my healing practice with clients everyday at the healing center."
— Bradford White, Orlando, Florida, USA

"The term "contemplation cards" doesn't give justice to this powerful deck! These cards embody wisdom, but also entreat you to act out of wisdom as well! They are such a great source of clarity. I work with them daily to help me set the tone of my day and make it great. Most cards don't change anything - these ones do!!!! Highly recommended from an experienced tarot reader!"
— Aleksandra Ceho, Toronto, ON

"The magick is REAL on Sovereign Ipsissimus Dave's contemplation cards. It is incredible how every time we pull a card it gives us confirmation to the energy of that day or moment in our lives. I suggest when you pull a card, hold the one card alone when you read it, I can feel the energy going directly into my heart and grounding that guidance. The energy is very powerful. Besides the magnificent design from Ipsissima Franca that helps elevate the whole experience even more."
— Liza Rossi, Florianopolis, Brazil

"One of the most amazing things I've found about the Modern Mystery School is that there is always more to learn AND I am given tools to actualize my purpose. One of the greatest tools offered are rituals, which I have adopted to be a part of my daily spiritual practice. When I first used the new "tool" from Sov Ips Dave called the contemplation cards I didn't realize the significance that they would bring to my daily work, and yet now they are literally like another ritual that I utilize from my spiritual toolkit. Everyday I pull a card to give me guidance and direction and it is always on point with my energy and especially what I need to learn in that moment. It's almost like these cards read me and not me reading them. It's incredible magick and also extremely beautiful to look at. The symbolism on the cards truly are art and bring a tangible energy of Alchemy. Even just holding them helps me to reconnect with my center. Now they have become a necessary part of my ritual practice and I am very grateful to have this extra tool for my progression."
— Megan Davenport, Florida, USA

"There are many oracle cards and tarot decks out there helping you try to discern the future, bu this deck is completely different. Its direct connection to the energy and wisdom from extremely powerful masters and guides pierces through the heart of the question you bring, giving you aspects to contemplate that align with the highest frequencies of Hermetics. I use these cards frequently to gain a perspective that I cannot see at that moment of time. They have become an essential tool in my toolkit, helping me pierce through those places of my own illusion so that I can act in the highest light."
— Michael Court, Arizona, USA

"I've been pulling the cards for the month, week, and day, and everyday has brought revelations and aha moments. The cards shine the light on where I'm stuck so that instead of fumbling around in the darkness and taking my sweet time, I got the clarity I needed to move forward quickly! They are such a gift and essential for those who want to live a life of joy and service."
— Linh Le, California, USA

"These cards are so inspirational and always reflect something that you need to look at in your life at the moment. The cards are gorgeous and carry so much energy. When you have a question, they are surprisingly spot on! I look forward to pulling a card everyday."
— Eric Thompson, Florianopolis, Brazil

"Ipsissimus Dave's cards are always right!"
— Radu Coman, Romania

"They are truly magickal and have helped me stay centred each time I work with them!"
— Yadiksha Hari, London, UK
Sovereign Ipsissimus Dave Lanyon
Lineage holder for the Modern Mystery School in the tradition of King Salomon, Sovereign Ipsissimus Dave Lanyon specializes in presenting Hermetic and Esoteric wisdom in practical and actionable ways. Over his decades-long journey on the path of initiation, he has applied his experience in corporate business to the organization to exponentially expand it into over 50 countries in just a few years at the helm. He has also received the highest initiation in this tradition, that of Sovereign Ipsissimus, granting him the keys to the lineage and anchoring the vision and mission of the Mystery School for its tens of thousands of members worldwide.
As a champion of the warrior mindset and a master in the realm in the Hermetic wisdom, he shares universal keys of knowledge in his two books, Essential Principles for the Warrior of Light (released in summer 2023), which follows his celebrated first book, You Are Not Perfect The Way You Are (released in the fall of 2022).
As a Ritual Master Teacher in the lineage of King Salomon and teaching an advanced series of Hermetic classes all around the world, his ability to hone in on the formula to create a foundation of wisdom is unparalleled. What began as a support mechanism for his students, he developed this set of Hermetic Wisdom Contemplation Cards so that everyone can tap in to the higher perspective of the universal principles of Hermeticis