The Warrior within you should always be present in life, prepared, honed, trained and ready to act for you wherever the need arises, which is often in this world we live in. For one to have peace, one must first conquer that which endeavours to take away peace from oneself. This is what makes a Warrior one of the Light and not simply a Warrior.
The Essential Principles for the Warrior of Light is here.
No matter who you are, where you are on your spiritual journey, or your life, you know that there are times when the courage and strength of a Warrior are required. For guidance and inspiration, look no further.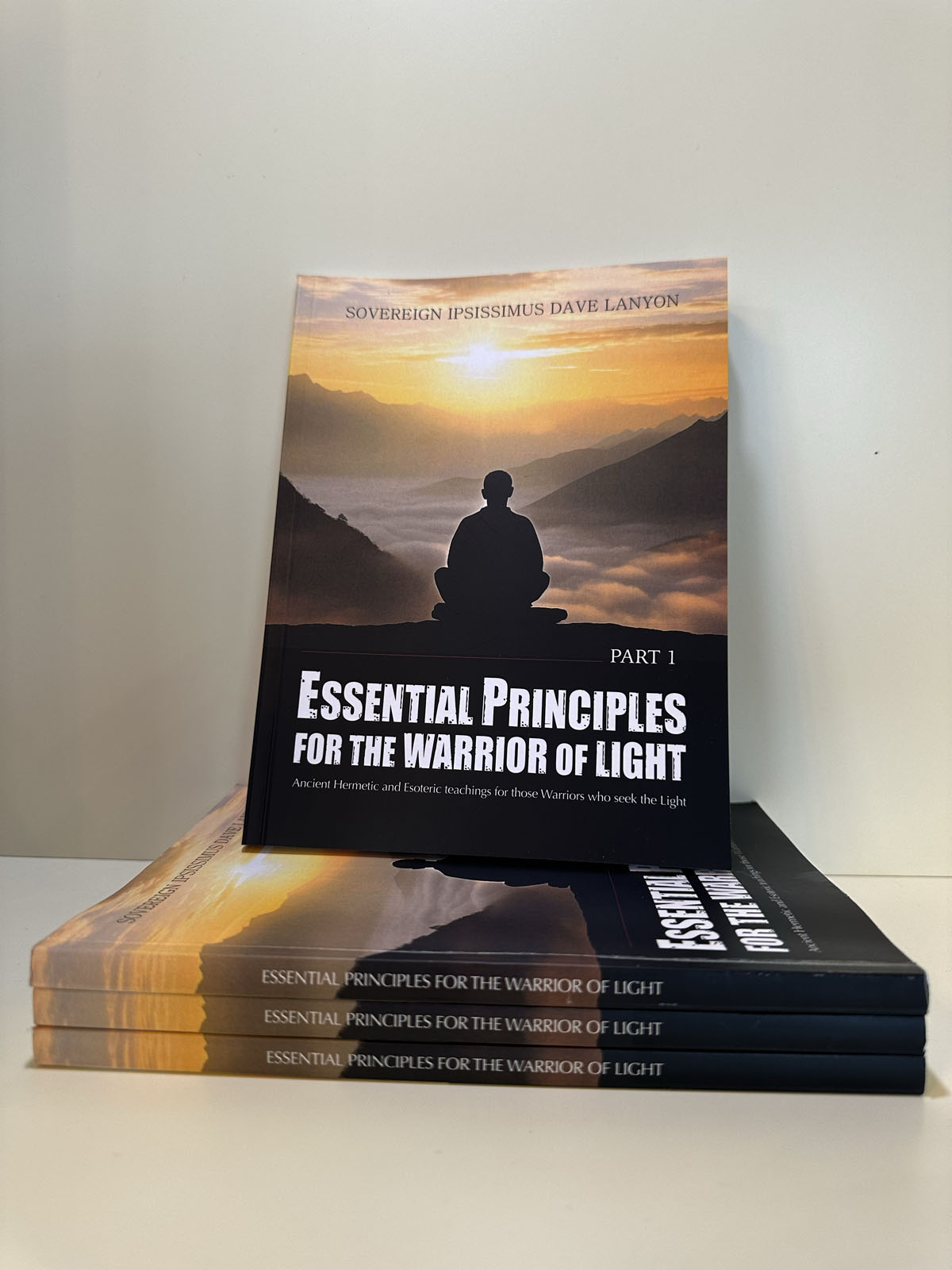 Everyone needs reminders and encouragement to embrace the spirit and strength of the Warrior with themselves. Here's what people are saying about the Essential Principles for the Warrior of Light: Part 1 and how it's helped them!

"Love the book. Sovereign Ipsissimus Dave Lanyon brings down in a very grounded way principles for us to follow in our daily lives."
- Francine Livera, New Jersey, USA

"Understanding myself as a Warrior and how I wish to show up in the world has been one of the greatest gifts in my life. This book guides the reader into true understanding of what it means to be a Warrior and how to become one with these principles and then live life from this place. Sovereign Ipsissimus Dave is a true Master of this art and shares this in such a powerful way to the reader."
- Kathleen Lanyon, Vaughan, Ontario

"This book brings huge clarity as well wonderful practical exercises … For me that's super important, as I want to know how to use these insights and this wisdom … and this book clearly does that. I love that the chapters are easy to read and to the point. I like to review a chapter each morning as part of my daily ritual practice. I find it helps shift my mind into a place of "I can do it!" In today's world of apathy, we need more of this!"
- Dr. Kate Bartram-Brown, London, England

"There is so much clarity that comes from reading this. I read the first chapter and the questions helped me so much to put into practice. Then I did that for a month and couldn't wait to do the next chapter."
- Cecile Tanmaya George, London, England

"The warrior archetype is within everyone but it has never been more needed on the planet than today. As Sovereign Ipsissimus Dave Lanyon teaches, you don't have to punch brick walls and shout all the time. The principles shared in this book and the integration exercises to accompany it will change your approach to life and your approach to yourself. If you know deep down that "toughening up" would yield better results in your life, delve into this book! You will find that you can rely on yourself to act with wisdom and discernment and who doesn't want more of that?!?!"
- Aleksandra Ceho, Toronto, Ontario

"In order to make an impact in your personal world, or the world at large, it's essential to harness your inner warrior. No one is debating whether or not life can be tough. We all face challenges, we all face adversity. These principles give you key principles to reflect on within your own life so that you can harness and strengthen your own inner warrior."
- Rachel Miller, California, USA

"In this path of progression called life we are always trying to become better, expand and keep learning. In the book "Essential Principles for the Warrior of Light" there is a wisdom that no matter where you are in your life you can apply it, strengthen and confirm your virtues and also give you a road map to transform some of the vices or weaknesses into strengths. The exercises at the end of each chapter can really take you to your next level, bringing awareness to important concepts. It helps to anchor and grow your light as you put it in practice, an amazing opportunity to gain understanding of each concept. I found myself highlighting almost the whole book."
— Liza Rossi, Florianopolis, Brazil

"Wow! This is the first workbook I have ever really enjoyed! Certain Essential Principles I quickened to right away, taking it in and making adjustments. However, as the book so justly describes, the best fruits of my efforts come from the wisdom that takes true commitment and dedication to embody. Just from reading the first few principles, and then following the exercises, I can feel the changes happening within me and within my mind. It's like I can hear Sovereign Ipsissimus Dave's voice in my head reading a certain principle! I am looking forward to the fruits in my life as I continue to put into practice these principles."
- Michaela Court, Arizona, USA

"This book was written for our times... people everywhere have so many options on how they can live their life, but for those choosing the way of the spiritual warrior, it is a challenging but rewarding path. Sovereign Ipsissimus Dave provides clear concepts and keys to for those wanting to step into their power. The book also contains valuable exercises to harness and apply the concepts which are discussed which I love. Highly recommend 10/10."
— Bradford White, Orlando, Florida, USA

"I haven't read this like a regular book yet. Similar to the Hermetic Wisdom Contemplation cards, I turn to this book for guidance on how to victoriously navigate specific situations, handle the day ahead, or gain deeper insight into challenges I have faced. One of the chapters that I turn to again and again has to do with acknowledging my strengths, which tells me that focusing solely on ways I have to improve isn't the way as a Warrior of Light. There is value in honestly assessing, expressing gratitude for and celebrating the work we've already done, the battles we've already won, the qualities we've already developed in order to move forward. The wisdom in this book may sound similar to other pieces of advice you've heard elsewhere that didn't quite land, or it may run contrary to what you believe. The clarity that comes from these pages makes everything hit different. The chapters are brief and rich with valuable insight. The exercises tied to each principle really help ground the wisdom. It's like taking a Physics class and then doing the lab. I don't do so well with theory, I'm an experiential learner, so it helps to have something I can work on that brings a greater depth and reality to the teaching."
— Melissa Reddick, New Jersey, USA

"When I became a Ritual Master or a Warrior of Light, I've already done a fair share of personal work overcoming my lower self and bringing forth the greatness within me. So all the easy stuff, I've already dealt with. Now it's hard stuff that comes up. And it's s usually at programs that I become aware of something I need to improve at myself, and I tell myself that I'm going to do something about it. But I get home and I forget about it, or get busy with other things. Now however, with Ipsissimus Dave's book, I get the insights at home, and I get an action item, something I can start doing right away. So there's no other things creeping in and making me postpone doing something about it. And it gives results! So I totally recommend going through the book at least once and pick up a principle to work with. And a fair warning: the one you want to avoid is probably the one that is going to help you grow the most."
— Radu Coman, Romania

"I have read the chapters I feel called to read, and every word hits the exact points I need to hear/remember. The book gives concise pieces and wisdom, and the exercises give a great way for me to anchor the new changes into my life. This book and the Hermetic Wisdom Card have upgrade my understanding of what it means to be a Warrior and how to truly live life one in life. This is the handbook of the Warrior of Light!"
— Linh Le, California, USA

"The inspirational words and insights that come from each section feels like I am sitting in class with Sovereign Ipsissimus Dave."
— Martina Coogan, London, England

"This book is packed to the brim with golden nuggets of advice for cutting through the stuff that grinds our life to a halt. It provides safe steerage towards leading a life inspired by the Light. Chapter after chapter helps us examine life subjectively. It doesn't only help us see ourselves better, it gives us exercises which, when applied, bring huge shifts in awareness, and the ability to do better. Yet again, Sovereign Ipsissimus Dave has gifted the world with his Hermetically inspired wisdom in a way that can be applied directly to life and towards living life In Shamballah."
— Dr. Ann Donnelly, Derry, Ireland

"Having had the honour of being the editor on this project, every time I read and re-read the chapters and exercises, the concepts evolved and expanded. It was magical and a little bit trippy to experience! This is a common concept in our lineage, that re-reading notes or class manuals and auditing classes, the knowledge will expand and integrate on new levels every time you are exposed to it. Read this book — and then read it again, and again."
— Christina Mars, Mississauga, Ontario

"This book is essential if you want to master yourself. Our biggest enemy is within and this is a great book if you want to spread the light and are still sabotaging yourself with old patterns. We need to awaken the warrior within. This is not just a book. There are powerful exercises to help you put into practice the knowledge you take in. I highly recommend this workbook."
— Eric Thompson, Florianopolis, Brazil
Sovereign Ipsissimus Dave Lanyon
Over his decades-long journey on the path of initiation in the Modern Mystery School, Ipsissimus Dave not only applied his business experience and acuity to the organization to exponentially expand it into over 50 countries in just a few years at the helm, but he also received the highest initiation in this tradition, that of Sovereign Ipsissimus, granting him the keys to the lineage and anchoring the vision and mission of the Mystery School for its tens of thousands of members worldwide.
Sovereign Ipsissimus Dave Lanyon has been a champion of the warrior mindset his whole life and is honoured to share this insight with everyone in his second book, Essential Principles for the Warrior of Light. Following his celebrated first book, You Are Not Perfect The Way You Are, released in the Fall of 2022, this new book contains a series of meditations and integration exercises using ancient hermetic and esoteric wisdom for the warrior to contemplate.
As a Ritual Master Teacher in the lineage of King Salomon, leading the Warriors of Light Program for the Modern Mystery School, he has no shortage of wisdom to share on how to apply perseverance, commitment and discipline to overcome the challenges of life to lead a fulfilling and joyful existence.